With a crash course motorbike you can obtain your driving license within 10 or 15 days. Of course you can also choose to make this a semi crash course and take longer time. Everything can be discussed and customized: we look at your wishes and what suits the best. The motorcycle driving lessons are given in Rotterdam South. You meet with the instructor at the garage where your motorcycle driving lessons will start. Our motorcycle driving lessons are given in the area of the CBR.
You will find the practice places for the AVB exam nearby. And the CBR location Barendrecht is also very nearby; where the AVD practical exam will take place. Obtaining your motorcycle driver's license with in crash course motor does not have to be expensive. We also don't charge you for extra fees!
Trial driving lesson motor
The crash course motor always starts with a trial driving lesson motor. Within this driving lesson the instructor will monitor your driving skills and insight. Just so you know at the end of the trial driving lesson motor how many driving lessons you will need and which package will suit you.
After the trial driving lesson motor we will book your practical exam AVB. After you received the date of your exam you will make a schedule for the driving lessons motor with the instructor. This process will follow as well for the planning of your AVD practical exam.
Motorcycle clothing
Did you know that you can also contact us for your entire motorcycle clothing outfit? You can buy high-quality motorcycle suits, motorcycle jackets, helmets and gloves through our driving instructor. The rates are cheaper than at the motorcycle clothing stores.We buy directly from the manufacturer! Feel free to take a look at the entire range when you come by for your motorcycle driving lessons.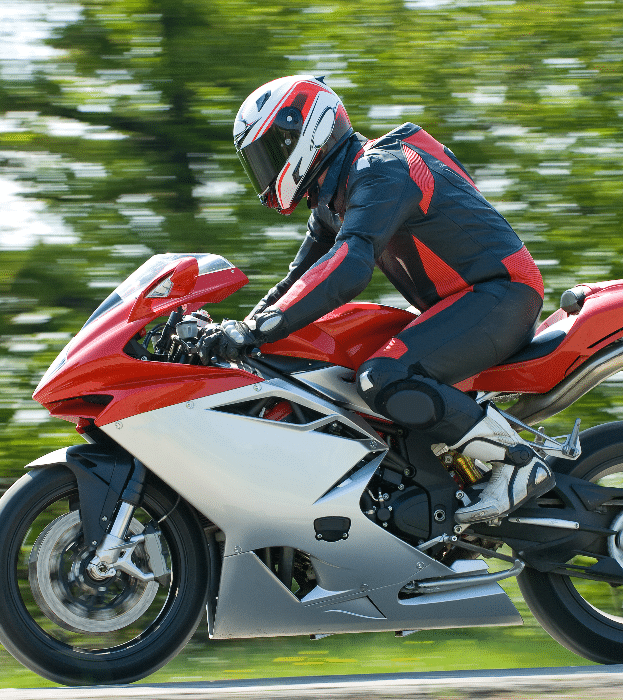 Motorcycle driver's license
From 21 years: motorcycle driving license A code 80: After obtaining your motorcycle driving license, you may only ride a light or medium motorcycle for 2 years or up to the age of 24. After that, the driving license is converted to an ordinary A category. And you can also ride a heavy motorcycle.
From 24 years or older: motorcycle license A unlimited.
Theory exam motor driver's license
You can learn your theory exam motor driver's license through theory books. Check our theory web shop for an overview. Make sure you choose the English one. In order to pass your theory exam motor driver's license, you have to do an exam at the CBR. Unfortunately CBR doesn't have an English exam motor driver's license as standard. To do the theory exam motor driver's license in English, you should choose an individual theory exam with an interpreter. The interpreter must be affiliated company Tolkennet. The costs for the interpreter are not included in the exam fee
Pricing motorcycle lessons De Rijscholen Concurrent