Self-reflection form is necessary when taking an interim test and practical exam. It gives the CBR insight into how you as a future road user think about your own driving skills. At the end of your test or exam, the examiner will go through the self-reflection form. This has no influence whatsoever on result for obtaining the driving license.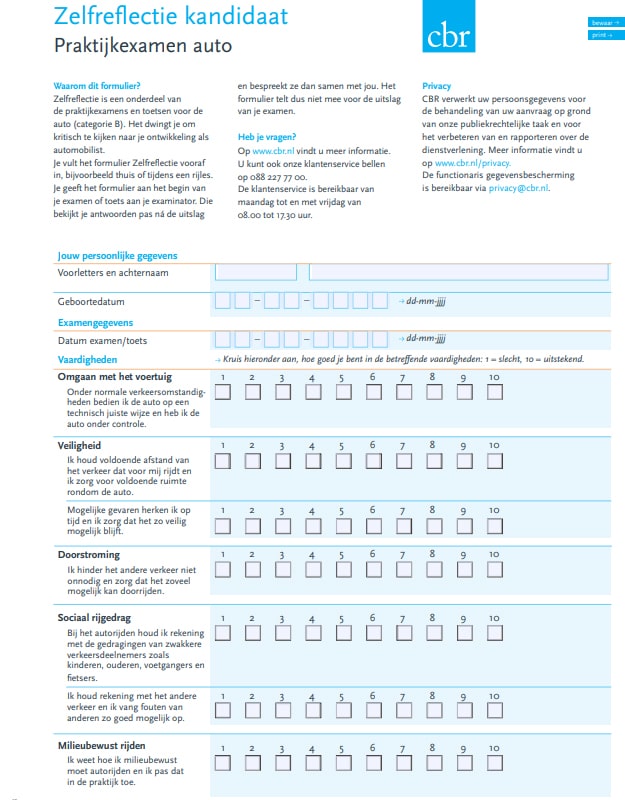 CBR self-reflection form
After the driving school has requested your interim test CBR or practical exam CBR, you will receive an invitation for the test and / or practical exam and a self-reflection form by e-mail. You fill in the self-reflection form independently one day before the test or practical exam. On the self-reflection form you give yourself a score for the lesson components that you have learned during your driving lessons.
The form is a compulsory part of the test and / or practical exam. However, it has no influence on the result of your practical exam/test. The self-reflection form will be viewed by the examiner after the result of the test/exam has been discussed with you. The sole purpose of the self-reflection form is to give the examiner an idea of how you experience driving.
Driving lessons Rotterdam
Driving training foreign driving license
If you have a driving license that does not come from the EU, EFTA or exempt countries, you must obtain your driving license again in the Netherlands. It is important to drive according to the standards of the CBR and to unlearn your own driving style. To get a good idea of your driving skills, it is important to first take a trial lesson. On the basis of the trial lesson, the instructor can estimate the minimum number of driving lessons that you will need and which driver training is best suited for this. Note that in addition to the practical exam, you also have to take your theory exam.
Pricing De Rijscholen Concurrent
De Rijscholen Concurrent has the best prices driving license. Packages can be paid in terms or per lesson!