About Driving School Concurrent
Some words about us. Driving school Concurrent is located in Rotterdam. The best driving school in the Netherlands! Now I can hear you think; doesn't every driving school says that about themselves? De Rijscholen Concurrent reviews shows you that it is true! The driving school experiences show you that our clients are very satisfied with their driving lessons and the services provided by driving school Concurrent. And that gives us extra motivation. It challenges us every day to keep improving our services.
We have built a respectful reputation over the 18 years we give driving lessons. We have been able to expand over the years. What started as a small driving school Rotterdam, has grown into a company with a large number of driving instructors. Despite the fact that we are a growing driving school, we find it very important to stay personal, friendly and kind. Our team also has a close relationship. It feels like family and we can rely on each other. In our opinion, this ensures the professionality and keeps the service high. Now a days you will find driving school Concurrent in Rotterdam, The Hague, Spijkenisse, Dordrecht, Amsterdam. And all surrounding regions. You can go to our driving school for driving lessons car, motorcycle lessons and scooter license.
Our driving lessons provided with the English speaking instructors can only be given in Rotterdam and surroundings and The Hague and surrounding.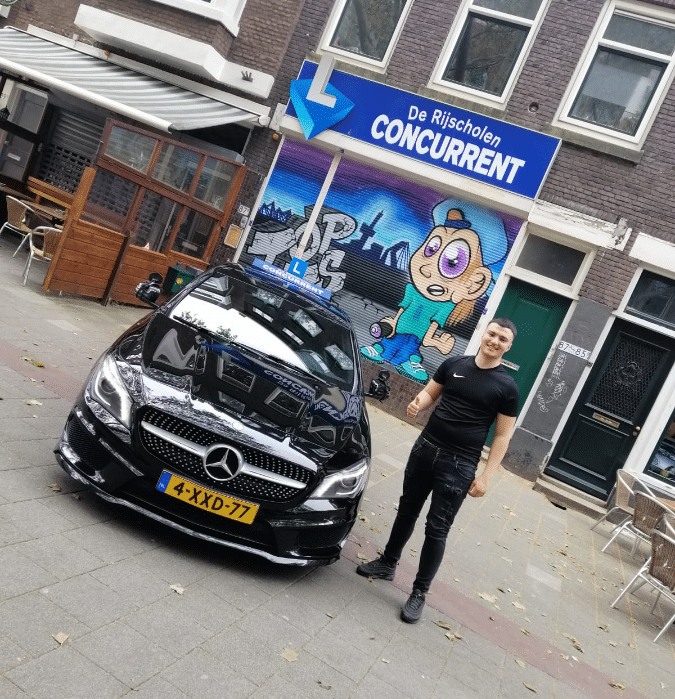 Headquarters driving school Concurrent
Driving school Concurrent in Rotterdam, is one of the largest and best experienced driving schools in South Holland! We have a large team of skilled driving instructors who work on a franchise basis. Our instructors are calm, patient, friendly, easy going. And are the best coaches for your driving lessons.
Fr