Trial lesson motorbike gives you the opportunity to get acquainted with the world of motorcycling. You have been considering obtaining your motorcycle driver's license for quite some time. However, you have never ridden a motorcycle. And you are not sure whether the motorcycle driving license is for you. The motorcycle trial lesson offers you the opportunity to experience this! Even if you want to know how many motorcycle driving lessons you need, the motorcycle trial lesson is an excellent start to your motorcycle driving course.
During the 100-minute motorcycle trial lesson you immediately receive motorcycle driving lessons. You immediately start with the first steps of the motorcycle driver course. And if you already have driving experience, the instructor can see how far you are. Also nice to know, the motorcycle trial lesson at De Rijscholen Concurrent is without obligation!
Trial lesson motorbike € 50/100 minutes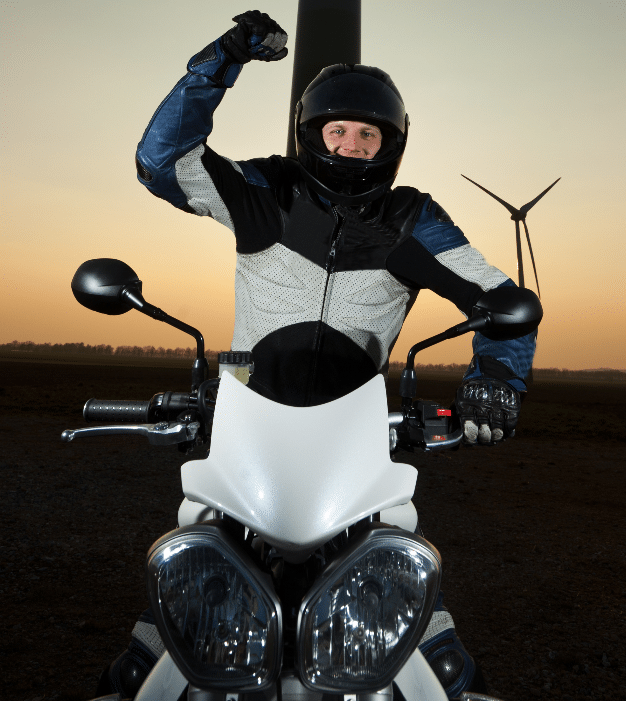 Motorbike trial lesson Rotterdam
The motorcycle trial lesson is given in Rotterdam South. After the driving instructor has instructed you on how to put on the helmet, headset and safety clothing, the ride will start. If you are a beginner, the motorcycle trial lesson will start at the parking practice area. The motorcycle trial lesson is the right way to meet your fixed instructor. At the end of the motorcycle trial lesson, the instructor will give you advice.
You now know approximately how many motorcycle driving lessons you will need and the costs. If you liked the motorcycle trial lesson, you can immediately make a new appointment for the next motorcycle driving lessons. It is also possible to directly book your AVB exam, so that you can work towards this practical exam. To take a motorcycle trial lesson, you must be in possession of a car driver's license or a motorcycle license A1, A2. If you do not have a driver's license, you must be in possession of a valid theory certificate for motorbike before you can take a motorcycle trial lesson.
Benefit trial lesson motor Rotterdam
Trial lesson motor Rotterdam € 50, – / 100 min.
Motorcycling lessons in Rotterdam.
Meeting a fixed driving instructor.
Special packages deals.
Motorcycle clothing and helmets can be borrowed for free.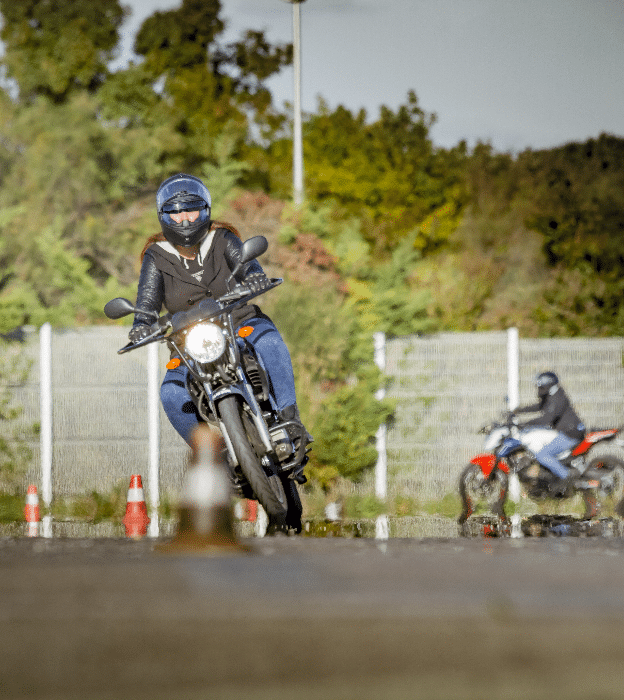 How old do you have to be for a motorcycle driving license?
21 years: motorcycle driving license A code 80: After obtaining your motorcycle driving license, you can only ride a light or medium motorcycle for 2 years or until the age of 24 years. After that, the driving license is converted to a normal A category. And you can also ride a heavy motorcycle.
24 years or older: motorcycle license A unlimited
Lesson time motorcycle trial lesson
The class time for the motor trial lesson is 100 minutes. After the motorcycle trial lesson, the motorcycle driving lessons last 60 minutes. It is useful to take 2 motorcycling lessons in a row each time, the so-called block hour. In this way, you're driving instructor has sufficient lesson time to properly explain, let you perform and repeat the lesson component to be learned. The motorcycle driver training starts with learning motor vehicle control.
After passing the AVB exam and your motorcycle theory exam (if you have not yet passed it), the motorcycling lessons will switch to driving in traffic. You now start with the motorcycle driving lessons that leads to the motor driving license (AVD practice exam).
Pricing motorcycle lessons De Rijscholen Concurrent