The Interim test AVD gives you an idea of how the real exam will proceed. The AVD interim test is given at the CBR location Barendrecht. And resembles a "real" practical exam. The examiner tests whether you can drive safely and independently. And whether you take sufficient account of other road users. Afterwards you will receive advice from the examiner.
This way you know exactly what you need to practice more before taking the AVD practical exam. An interim test AVD is not a obligation, but is highly recommended. Especially if you are nervous or have performance anxiety. In addition, the test increases your chance of success! To take an interim test AVD, you must be in possession of a valid theory certificate. And you must have passed the AVB exam.
Please note, we give driving motorcycles lessons only in Dutch.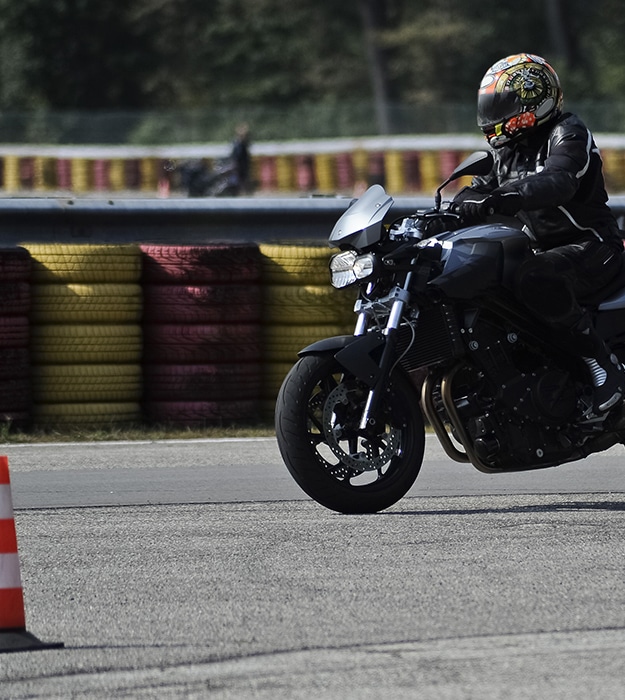 Rules AVD in a row:
For the drivers license motorcycle you have to take 2 practical exams: practical exam AVB and practical exam AVD.
Even if you have a driver's license car, you have to take the theory exam motorcycle.
With a valid driver's license car, the theory exam motor is required for the interim test AVD and/or practical exam AVD.
If you're 21 years old, you can take get your driver's license motor for category A code 80. Your driver's license motor will be converted to an A unlimited after 2 years, or when you're 24 years old.
How does an interim test AVD test work
The AVD interim test lasts 55 minutes. 35 minutes of this is reserved for the ride. During the test ride, the examiner will follow you with the car. You will receive instructions true the headset in your helmet. During the AVD interim test, the examiner will have an eye for the total driving performance. And he will take a closer look at all the parts that you need to learn for your motorcycle driving license.
Consider, for example, your viewing behavior, control of the motorcycle, whether you apply the traffic rules properly and how your position is on the road.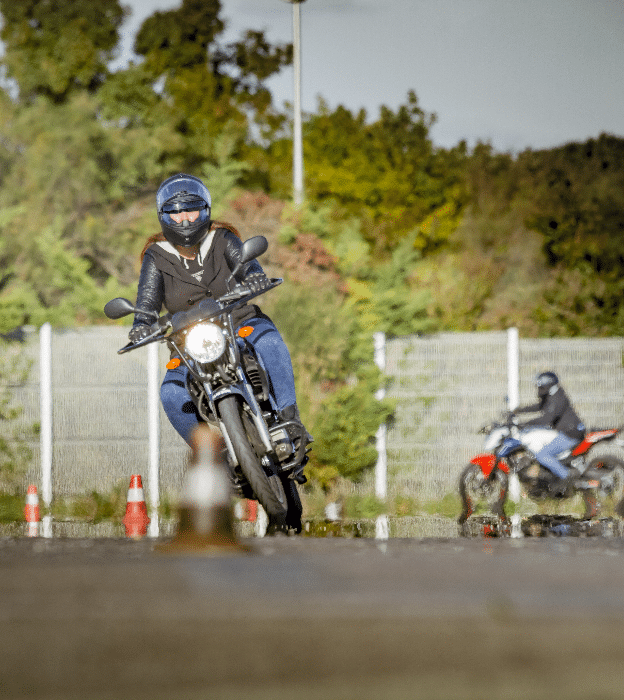 Book an interim test AVD
To book your AVD interim test, we would like to receive the following:
Authorization: Go to mijncbr.nl. Login with your DigiD and let the CBR know that De Rijscholen Concurrent (2057F8) is the driving school that guides you during the interim test AVD.
Payment AVD interim test: Transfer the fee for the AVD interim test to the account number of De Rijscholen Concurrent NL08 RABO 0103 444 203, stating your name and the name of your driving instructor.
All settled? The driving school will now book your AVD interim test. You will receive a message about this as soon as possible.
Theory exam motor
You can learn your theory exam motor in English through theory books. It is also possible to expand with exam training. We offer books from publisher Vekabest. They are the best choice when it comes to learning for your theory motorcycle.
know that there is no standard CBR exam available for the theory exam motorcycle. To take the motorbike exam in English, you can opt for an individual theory exam with an interpreter from Tolkennet. The costs of the interpreter are not included in the exam fee.
Pricing motorcycle lessons De Rijscholen Concurrent